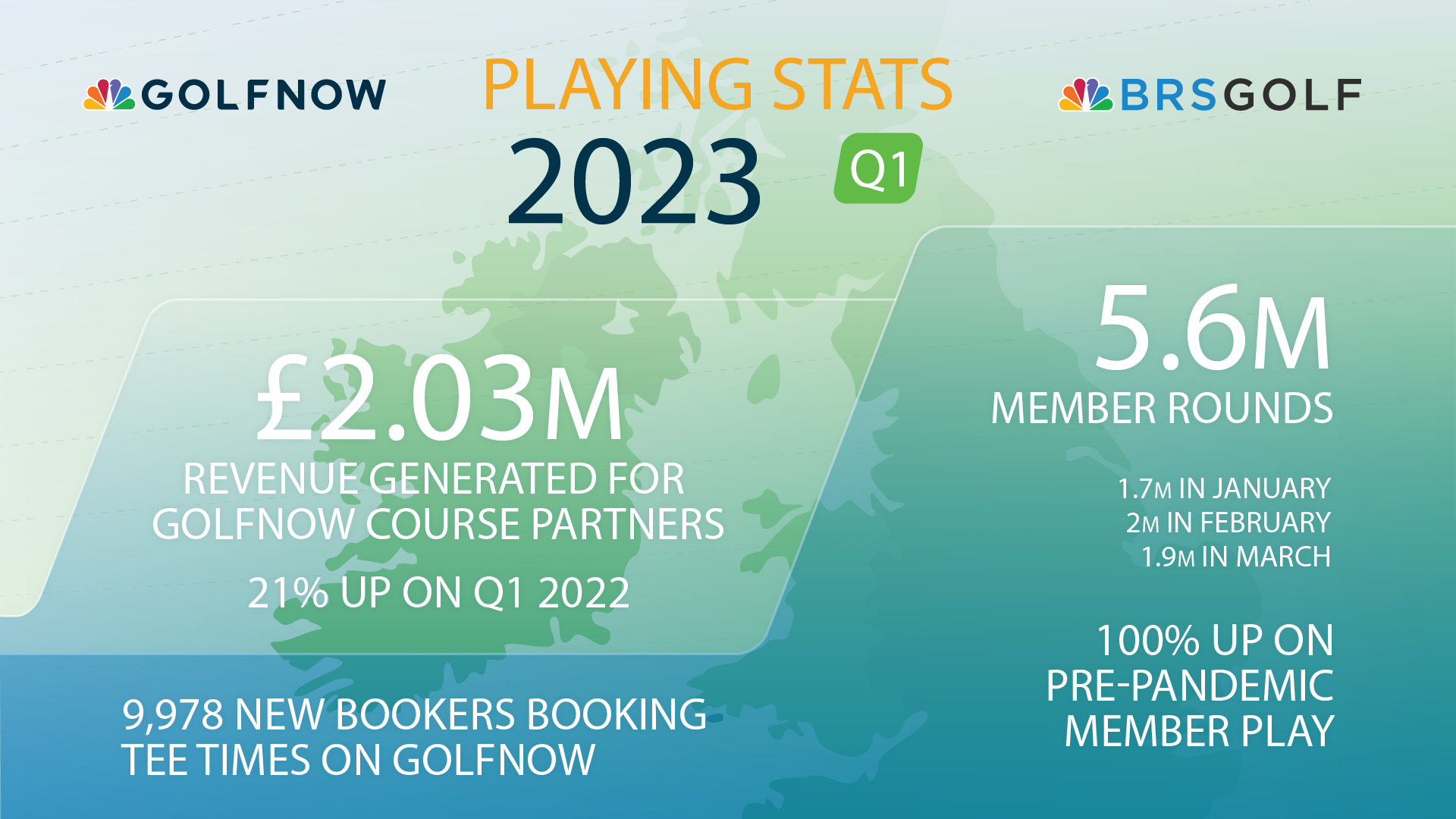 Golf's leading provider of tee time management booking technology, BRS Golf, and the world's biggest tee time marketplace, GolfNow, have reported a strong start to 2023 for both member play and visitor play in the UK & Ireland. However, the golf software company can confirm that membership numbers are starting to decline.
Together BRS Golf and GolfNow provide tee time booking solutions to 1,500 golf clubs across England, Ireland, Northern Ireland, Scotland and Wales, making the tech giant one of the largest and most trusted sources of participation data for golf in the British Isles.
Member participation remains strong
1 January-31 March 2023, BRS Golf processed 5.6 million member rounds.
-1.7 million in January (150k down YOY),
-Two million in February (500k up YOY thanks to the driest February on record)
-1.9 million in March (flat YOY due to snow and wet weather)
This equated to a YOY growth of 400k rounds, nine per cent up on 2022. Compared to the final quarter of 2022, member rounds were 600k up. And looking back to pre-Covid levels of play in 2019 rounds are 100% up, with 2.8M rounds played in Q1 2019 compared to 5.6M in Q1
Member Rounds by Country:
-England: 2.8 million rounds (10% up YOY)
-Ireland: 1.25 million rounds (5% up YOY)
-Scotland: 863,000 rounds (7% up YOY)
-Northern Ireland: 413,000 rounds (17% up YOY)
-Wales: 291,000 rounds (6% up YOY)
Overall membership numbers start to decline
Over the course of the pandemic, the golf industry witnessed a boom in membership at levels never before seen. During 2022 these numbers flattened out and the focus for many clubs was on retention of their member base, as opposed to the high levels of acquisition of the previous two years.
Now BRS Golf can report that in Q1 2023 registered member numbers at golf clubs in the UK & Ireland have started to decline. With the cost of living and energy soaring over the last 12 months, many predicted that spring membership renewals would see some attrition, and Q1 data confirms this theory. However it will likely be July 2023 before we are able to measure the full impact of the cost of living on membership numbers as most renewals take place in April.
The following numbers are based on those clubs who were live and transacting in December 22, and do not include any new clubs signed up to BRS Golf over Q1 2023. Based on this sample set of clubs the total registered members number has dropped by 6,000 over the course of January-March 2023.
-53% of these lost members have been in Ireland & Northern Ireland
-28% in Scotland
-19% in England
-Wales remains flat
-In Ireland and Northern Ireland 18 clubs lost 100+ members, and 36 clubs lost more than 50 but less than 100 members
-In Scotland seven clubs have lost more than 100 members, 21 clubs have lost more than 50, but less than 100 members
-In England, 19 clubs have lost 100+ members and 30 clubs have lost more than 50 but less than 100 members. This drop in registered members has been evenly split between the North and South, with the Midlands remaining almost flat from the end of 2022.
Visitor numbers continue to increase
In Q1 2023, GolfNow generated over £2 million in green fee revenue for its course partners. This represents a 21 per cent increase YOY, thanks in large part to a very dry February which inspired more visitor play and lead to almost 10,000 new bookers in Q1. In total 1,404 golf clubs sold rounds through GolfNow during January-March 2023 and average basked value per booking was up five per cent YOY to £55.20.
With operating costs still high, clubs may want to consider bridging the gap with incremental visitor green fee revenue. You can contact your dedicated GolfNow Account Manager for any help on best pricing practice and in-depth knowledge of your own geographical golf market. If your club isn't currently listed on GolfNow, contact our sales team for more information.